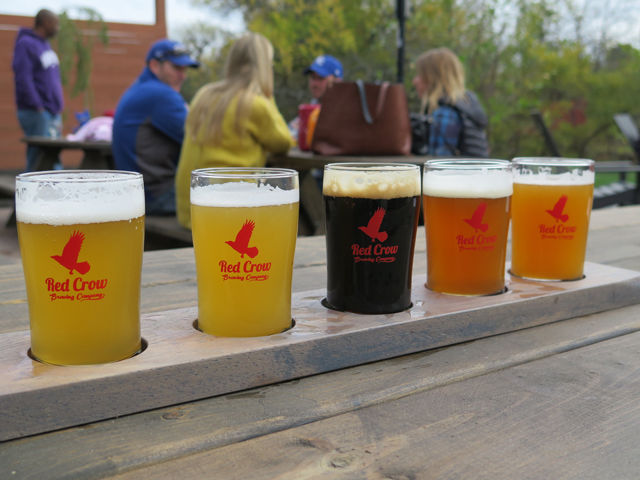 Red Crow Brewing Co.
opened its doors in Spring Hill, Kansas, last Saturday. A steady stream of customers dropped in to view the taproom and patio as well as sample fresh local beer.
Brewery owners Chris and Mistie Roberts and in-laws Joe and Loretta Fisher anticipated opening over summer 2015, but the permit process and final build-out delayed the opening. The wait was worthwhile.
After exiting from 69 Highway and approaching Lone Elm Road, the drive to the brewery includes a view of a landscape pond with water features next to the building. The complex houses two businesses. The Bowery will host events such as weddings, reunions and anniversary parties. The 3,200-square-foot brewery is divided into a spacious taproom, seven-barrel brewhouse, cold room, office, laboratory and storage.
Garage doors open to reveal a sprawling, multi-level patio with ample seating at picnic tables and chairs, plus landscaped grounds and farmland in the distance. Inside, the no-frills taproom is designed for gatherings and events with simple decor such as corrugated metal and beer label posters on the walls.
Guests come here for the beer brewed by Chris Roberts, first and foremost. The brewery's core beers were on tap, each named after a family member of the owners.
Isabelle (Belgian Blonde) is a barley and wheat malt blended into a soft Belgian Ale. It's floral, fruity and mildly spicy in the Belgian style. Elaine (Rye Porter) is an ale with dark chocolate color. The use of rye malt adds a spicy velvety character that builds on the roastiness and creates an easy-drinking dark beer. Louise (India Pale Ale) exhibits floral and citrus flavors combined with passion fruit, mango and white grape aroma from the combination of Hallertau blanc, Citra, Centennial and Bravo hops.
Guests can order pints or flights of beers to savor while relaxing indoors and outside on the patio. During the opening weekend, a crew of cyclists took a break from riding bikes across the rural back roads of Spring Hill to settle in for small talk, sips of beer and fresh air.
The brewery hosts outdoor movie nights and live music and has outdoor games to create a social atmosphere. While the bar does serve inexpensive dry snacks, the brewery does not have food available in house. Red Crow hosts various food trucks that serve customers and typically announce appearances via social media.
The drive to Spring Hill, located on the outskirts of Olathe, is considerable for those living elsewhere in the metro. Even so, Red Crow Brewing Co. is a welcome addition to this area as a local gathering spot for beer and fellowship.