Honda's first EV for the European market is a retro-styled city car that's shorter than the Honda Jazz supermini
Honda
has confirmed that a production version of the
Urban EV Concept
will be made in 2019.
The electric car, the car maker's first for Europe, is built on a new dedicated electric platform and "sets the direction for the technology and design" of its future EVs.
The car maker already sells an electric
Clarity hatchback
model in the US and Japan.
Talking about the Urban EV concept which was revealed at the
Frankfurt motor show
, Honda president Takahiro Hachigo said: "This is not some vision of the distant future; a production version of this car will be here in Europe in 2019."
The Urban EV has low and wide proportions and is 100m shorter than the Jazz supermini, making it 3895mm long.
It also uses a Honda emblem backlit in blue, which previews a new styling feature for future EVs from the brand.
At the front of the car between the headlights, interactive messages can be displayed including greetings, advice for other drivers or charging status updates.
Inside, Honda has intended to create maximum visibility for drivers thanks to slim A-pillars and a wide windscreen. Entry and exit from the Urban EV is via rear-hinged coach doors.
A so-called floating dashboard console houses the steering wheel column, a set of simple control buttons and a panoramic screen. The wrap-around screen goes beyond the dashboard and extends in to the doors, a feature which works as the car's wing mirrors through digital camera display.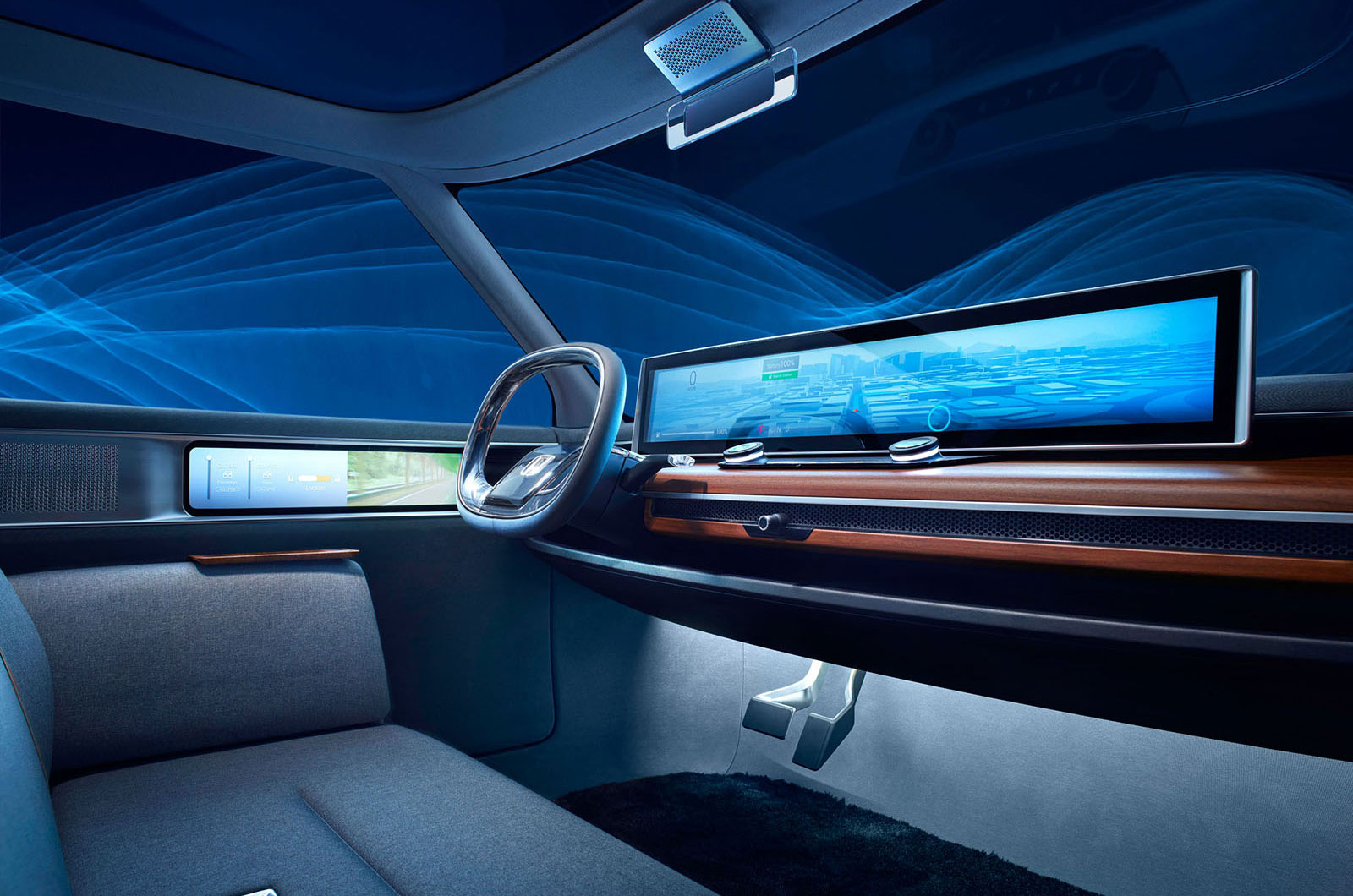 The concept can accommodate four occupants, but it is likely a production version will allow for five.
No powertrain or range details were given, but Honda said it would include a high-density lightweight battery pack, integrated heat management and energy transfer functions both to and from the vehicle.
The car maker recently announced that every new model line from now on would feature electrified technology in Europe.
In Europe, it hopes to have two thirds of its new car sales using electrified technology by 2025, five years earlier than its overall global goal.
Hachigo explained: "Here in Europe, we see this move towards electrification gathering pace at an even higher rate than elsewhere."
Honda also unveiled its Honda Power Manager Concept at the show, an integrated energy transfer system that can distribute electricity to and from the main grid, as well as directing power flow from renewable sources and managing an electric vehicle battery connected to the home.
Philip Ross, senior VP for Honda Europe, said: "When appropriate, Power Manager can draw on energy from the EV battery to power the home and minimise the demand from the main grid. It even allows the energy stored in the EV to be sold back to the grid to generate an income for the owner."
The technology is undergoing a trial in western France, as part of the development of a regional 'smart grid' due to be completed in 2020.