My god. The irony. The hypocrisy. It's
luminous
! You have the gall to say "whatever happened to competition" when you've joined up with a company doing absolutely anything in its power, be it legal or not, to impede legitimate competition? You say that when your beer is largely being distributed
through AB-InBev distributors,
which were
given monetary incentives
by the company to push your product, rather than beer from independent craft breweries until the
Department of Justice defanged the program?
That's the literal opposite of competition, sir. That's more like challenging someone to a fight, and then showing up with a team of hired goons who beat the hell out of your opponent before you step in to deliver the coup de grace.
Over in L.A., Golden Road Brewing president Meg Gill is apparently experiencing the same type of cognitive dissonance over the continued beer geek reaction to Golden Road's 2015 AB-InBev buyout. Despite the backing of a corporate giant, and her own TV show
Beerland
on Viceland with an oily corporate sheen, Gill has encountered constant pushback from beer geeks, who most recently have organized in Oakland to oppose the construction of a satellite Golden Road location in their city, with some success. This has led to Gill attempting to distance the image of her company from its corporate masters, at times reportedly claiming that Golden Road wasn't truly associated with AB-InBev, and claiming that she is being personally attacked for being successful.
According to the East Bay Express,
she's even adopted some Trumpian vocabulary:
In fact, she suggested more than once that Golden Road wasn't really even associated with Anheuser-Busch, even telling a group of residents on Wednesday that "non-factual opinion columns" are trying to paint Golden Road as part of Anheuser-Busch, and that such reports are — her words — "fake news."
From Gill: "I think that your articles are abusive. I think that you're incredibly discriminatory against a successful businesswoman who has done well, partnered with a big beer company, and is now wanting to build in Oakland, just like Rare Barrel or any of these other guys," she explained.
Sorry, Meg, but you don't get to have it both ways. Just like Todd Usry and Breckenridge, once you choose to sell out, that's something you have to live with. We actually like Golden Road's beer over at
Paste
, but there's absolutely nothing "fake news" about reminding people of who your ownership is, and what your ownership's business practices are. Being reminded of how AB-InBev behaves is exactly what you signed up for when you accepted that check for an "undisclosed sum," and gender of all things couldn't possibly be of any less relevance to the story. The people of Oakland are speaking clearly, as is their right: They don't want your brewery in their neighborhood. They're allowed to care about your ownership. Accept their right to give a shit.
Remember the Serious Eats piece I referenced about 3,000 words ago?
It's this one,
and it runs through most of the lines of BS cited in this piece, while offering token analysis—the appearance of considering the craft beer side of the equation, while in reality simply printing AB-InBev's perspective on every issue, straight from the mouth of Felipe Szpigel, president of Anheuser's The High End division.
We go through "Are they watering down the beer?" first of course, because it's always the most easily defensible position. The author cites Facebook posts from beer geeks bemoaning that "there goes the flavor," which serves to make those beer geeks look overly emotional and mistaken, given Szpigel's assurances that nothing will change at any of the breweries they acquire. We then launch into "Are the people working at these breweries happy?" And wouldn't you know it: The people who accepted buyouts and are still working at those breweries have nothing but good things to say about The High End! Can you believe that? Who would have expected these guys who sold their companies for millions of dollars to report that they're ever-so-fond of their current bosses?
Now, let's see: Who
doesn't
this article seek commentary from? Is there a comment from the Brewers Association, perhaps? No, it doesn't have that. Perhaps a quote from a single independent brewer in response to anything Szpigel says? Nope, doesn't have that. Well, did the author speak with a single person from any of the acquired breweries who isn't still with the company? NOPE. After all, why talk to Dick Cantwell when you can talk to Meg Gill or an AB-InBev representative, right?
Instead, he simply notes the existence of those dissenters, from Cantwell to Ballast Point founder
Jack White
(who also
walked away from the company
with three other executives after it was acquired by Constellation Brands) in a single paragraph, without apparently making any attempt to interview them, effectively reducing those people to caricatures of eccentric, unrealistic outsiders who couldn't just accept a check and keep their mouths shut. The author doesn't personally speak to a single person who doesn't have an immediately obvious monetary incentive for agreeing with everything coming out of Szpigel's mouth. If I did this as a writer, in a piece that was ostensibly "trying to get the full story," as the author puts it, I would expect to be called out on it.
The piece asks the question "Does anything actually improve when Big Beer buys you?" to breweries that sold out, instead of the question it SHOULD be asking: "Does anything get worse for every other brewery in your industry?" Because the answer to THAT question, of course, would be "yes."
Perhaps unsurprisingly, the author of that piece currently has bylines frequently appearing at two recently launched "craft beer" blogs (October, and The Beer Necessities, recently
criticized by Beachwood Brewing
) that are financed by—you guessed it—The High End and AB-InBev. Although the same guy produces excellent craft beer content elsewhere on the web and in print, doesn't contributing freelance work to a website literally owned by AB-InBev almost necessitate the need for some sort of asterisk next to a writer's byline? Or are we the draconian ones here, for daring to care about the fortunes of independent craft brewers?

Line of BS: "This buyout will allow us access to new malt and hop contracts that we could never pull off before."
Translation:
Once again—sure, but at the expense of the entire rest of the industry.
It's no secret at this point that one of the most limiting aspects of innovation these days within the cutting edge of the craft beer scene is access to hop contracts for elusive and popular new varietals. There's just only so much Citra or Galaxy to go around, and if you can't get it, good luck keeping that award-winning IPA flowing. Even newer, more limited varietals are fun for brewers to play around with, but their popularity is a double-edged sword: You can make a great IPA with some brand new, experimental hop varietal from New Zealand or Germany, but never be able to replicate that beer again if it's a huge success.
Breweries within AB-InBev's The High End get an immediate big advantage here, given their access to hops from Anheuser's Elk Mountain hop farm, the largest contiguous hop farm in the world at more than 1,700 acres. There, AB can grow the popular varietals that breweries such as Golden Road, Elysian and Wicked Weed will covet for their IPAs. But of course it doesn't stop there—craft breweries are right to be nervous about the possibilities of AB-InBev encroaching upon the rest of the raw materials supply chain in the future. Antitrust law might make it difficult for the company to snap up major U.S. hop farms in Yakima Valley, but only weeks ago we were given a taste of InBev flexing its control of resources on an international scale, when it leaked that they would be holding on to
the entirety of the South African hops market,
rather than allowing any of it to be sold to American craft breweries. The news broke and spread
after a memo
from South African independent hops distributor ZA Hops was leaked, revealing that the surplus hops they previously sold to American craft breweries would not be made available to them by AB-InBev, who owns the farms after acquiring them in its international merger with SAB-Miller.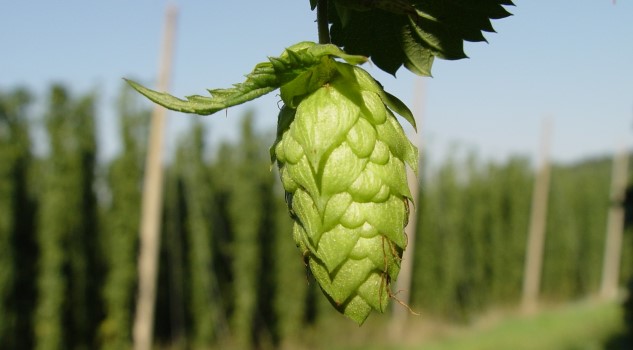 Kiss those nouveau South African hop varietals goodbye.
Granted, in all fairness, AB-InBev primarily cites a
significantly reduced 2016 hop crop
as the reason for these hops being withheld, and they do OWN THE HOPS, but that does little to placate the small American craft brewers who will no longer be able to purchase these new varietals, which are widely considered some of the most exciting and groundbreaking of new hop styles. Hyped IPAs made with South African hops had already been on the U.S. market from the likes of Cellarmaker,
Russian River
, Great Notion and Proclamation Ale Co., who all took to Twitter and Facebook to tear AB-InBev a new one in response. The idea that brands within The High End may have access to these hops, while small, indie craft breweries did not? Well, that didn't sit well with folks.
Personally, I would argue that the appearance of "extreme dickishness" is only amplified when you look at a quote that appears in the
Serious Eats article
we've previously been discussing. From former
Goose Island
brewmaster Brett Porter, who now works as director of craft innovation and brewing for The High End: "We have unprecedented access to more hops and malt than we ever did before. I feel like a kid in a candy store!"
Such an apt metaphor, is it not? Porter and the breweries at The High End are running around in a candy store shopping spree. Meanwhile, the doors to the candy store are padlocked, and there are about 6,000 independent breweries waiting outside, with their faces smashed up against the glass, watching the shelves be ransacked. But don't worry, says Szpigel in the same piece, it will all be okay.
"What do we have? Five percent of the craft market?" he retorts. "It would be impossible for us to control [the market for all] these hops."
The market for "all these" hops? Yes, it's unlikely that AB-InBev will be able to control that. The market for
specific
, rare, sought-after varietals? Such as those from
South Africa
, for instance? That's a different story.
A little while back, in an unrelated interview I was conducting with the owner of a thriving Georgia brewery, talk turned to the company's extremely popular flagship IPA. Right now, the brewery's single biggest challenge is ramping up production of that IPA. And it's not because they're out of capital for investment, or because they're out of tank space for production. It's because they
can't increase the amount of hops they have access to
fast enough, in the necessary varietals. There's simply no more of that hop to be had. And if AB-InBev is able to acquire some of the farms producing that varietal internationally? Then things for this Georgia brewery will only become more dire.

Where does Paste stand?
After going on for 5,000 words on our perspective on these lines of BS that both the brewery sell-outs and the apologists are fond of, our position should probably be pretty clear. But in case it somehow isn't, I'll sum it up more tidily.
We, at
Paste
, support the craft beer industry as a whole. We support the Brewers Association's aims to prop up the dreams of small, independent breweries, and we support the quixotic goals of those little breweries, provided they're making good beer.
We understand that brewery owners eventually sell their companies. Not everyone has a child in waiting who wants to take over the family beer business. But we have serious problems, enumerated above, specifically with selling out to certain international conglomerates, such as AB-InBev, or MillerCoors/Molson Coors, which continues to operate independently in the U.S. and acquire former craft breweries of its own. These concerns are rarely based on "quality of the beer," but instead are the result of the underhanded business tactics (such as AB-InBev's recent pay to play infractions and fines) and political lobbying against craft beer interests.
Does this mean we refuse to ever drink any of the beers owned by AB-InBev or MillerCoors ever again? No, actually—but it does mean that, by and large, we won't pay for them, or put money into the coffers of these companies. We have accepted, and will continue to accept beers from AB-InBev and MillerCoors breweries into our
monthly blind tasting series,
because it's the fair thing to do. If we didn't, then someone from The High End would have a legitimate gripe that
Paste
wasn't willing to recognize quality for the sake of quality, and that ain't true.
Case in point: Heal the Bay, an IPA from AB-InBev-owned Golden Road Brewing in L.A., was #21 out of 247 the last time we
blind-tasted American IPAs,
landing in the finals alongside stuff from Tree House, Trillium and The Alchemist.
Goose Island
's classic Bourbon County Stout recently landed at #5 out of 144 barrel-aged imperial stouts in
our February tasting.
This is objectivity in blind taste testing—admitting when an AB-InBev owned brewery is making a delicious product. But simultaneously, we reserve the right to publish pieces like this one, pointing out what we see as duplicity in how these buyouts are presented to the public. That's balance, as we see it.
In the end, we're on the side of craft beer. And that's all you really need to know. And unlike Wicked Weed, we won't post the following on social media, and then sell out to that company a couple years down the line.