Asking/Offering Price: $4500/TRADE FOR CLEAN 1G DSM w/6bolt. Also open to trades for clean swapped EG,EK,DC
Email Address/Phone Number: 913 558 9436
Zip Code: 66061
Name: James Zipperlen
Item Description:
Motor/trans
LS bottom end. B16A3 PR3-4 head.
Golden Eagle oil sandwich.
Stock to my knowledge.
New oil pan and gasket, new valve cover gasket and dizzy O ring. Has an ever so small leak from the cam seals. Never looses a noticeable amount of oil, just enough to slightly wet the side of the block.
I have only run it on Royal Purple 5w30 and only used WIX filters.
LS trans has slight grind in third over 3800RPM.
NO CHECK ENGINE LIGHT
Suspension.
Lowered on Megan springs.
New lug studs on both front hubs.
BWR camber kit.
Good alignment.
Interior.
Nearly flawless.
JDM steering wheel
GSR shifter w/ weighted shift knob.
Integra cloth front seats (2 pinholes in pass seat)
Original front and rear floor mats
Kenwood head unit
Infinity speakers all the way around
Power EVERYTHING.
Exterior
Exterior is in pretty good shape. Rear bumper has some nicks. Front fenders are probably trash. I have 2 "JDM" front fenders that will be included in sale. Just need painted and they'll be good to go.
Hood is kind of beat up from hail.
Has 55w 5K DDM tuning HID's
Rolling on Honda FIT 15" wheels. (may or may not be included with sale)
60% tread all the way around.
Can throw in a set of GSR blades for the right deal.
Car also has a very nice CompuStar alarm system with digital keyfob.
There's a lot more but this is a list of the major things. If you have any questions feel free to ask. I will answer all questions as best I can.
Sorry for the shitty pics.
By
norotor86
at 2011-08-04
By
norotor86
at 2011-08-04
By
norotor86
at 2011-08-04
By
norotor86
at 2011-08-04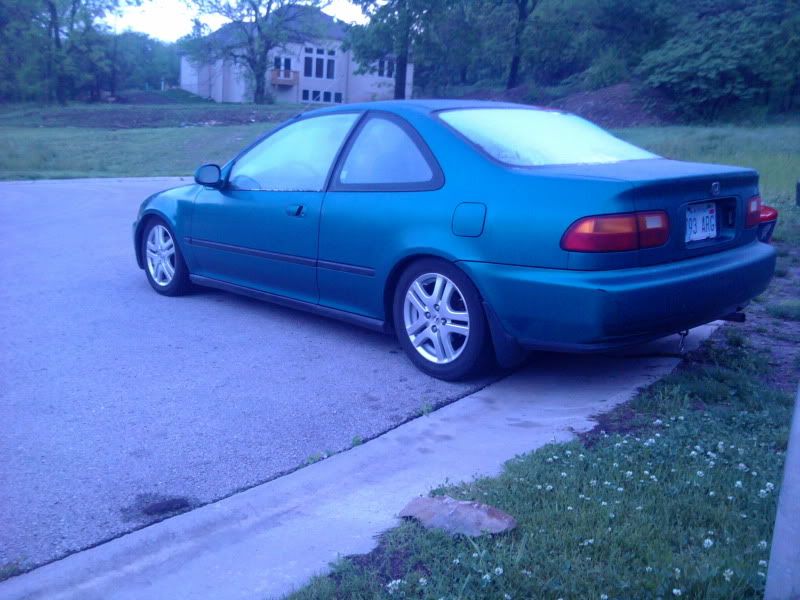 Easiest way to get ahold of me is to call/text 913-558-9436. . Text before 8pm, after that it is better to call.
Year: 1995
Make: Honda
Model: Civic EX
Mileage: 154000
Title Status: CLEAN
Color Exterior/Interior: Teal/black
Transmission: LS
Drivetrain:LS-Vtec